Keto Meal Plan
A healthy approach to high-fat, low-carb meals.
Target Macros 70% fat, 25% protein, 5% carbs
Dietitian Approved Meals
Includes Nutrition Info
Sample Meals on the Keto Meal Plan
Fresh, simple recipes using keto-approved ingredients along with approachable cooking techniques.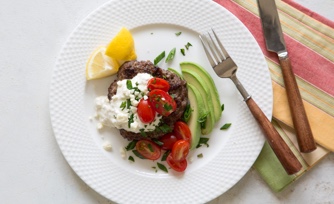 Keto
Blue Cheese Sauce Burgers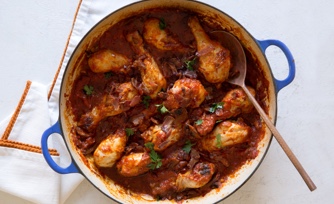 Keto
Hunter-Style Chicken Drumsticks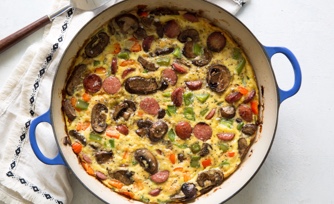 Keto
Smoky Sausage-Vegetable Egg Bake
Learn more about how it works
Save Two Hours Every Week
More than a million customers have trusted us to help solve dinner.

We love emeals! I let the kids pick a couple of recipes for the week that they think they will like...

I've been an eMeals subscriber for several years now because eMeals makes everything so easy. It started with making meal planning...

I have been using emails for well over 5 years. The variety is awesome, my family hates repeating meals. And, the flexibility...
powered by

You Might Also Like
You can always mix and match recipes from all our plans.
Frequently Asked Questions
Does eMeals require that I have my groceries delivered or gathered for pickup?

No, you can use the app to shop yourself at the grocery store of your choice. But eMeals also offers integrated pickup and delivery of the meal ingredients through Walmart, Kroger, Amazon, Instacart and Shipt. Try it once, and you may never go to the grocery store again!

Would I have access to all the meal plans?

Absolutely. Our goal is to provide each user with a curated flow of recipes based on their top nutrition goals, but also the flexibility to meet their changing lifestyle and family needs. Users have unlimited access to the full range of our dinner food styles.

Do you have a smartphone app to access my plan on the go?

Yes. We have free, dedicated iOS and Android apps that are available to all users with an active subscription. You can choose your meals for the week and have your shopping list sent for pickup or delivery all while waiting in the carpool line! After signing-up on our website, simply download the app and login using your email and password.

What if I don't want to use all of the dinner meals on my plan?

Our goal is to provide plenty of variety and inspiration for you to pick and choose the meals that most appeal to you and your family. You will have access to the current week's plan, to previous weeks, to your favorites as well as to recipes from other food style plans. In the app, you can easily select the meals that you want for the week, and the app automatically creates a shopping list based on your selections.

How much does eMeals cost?

A subscription to eMeals is as low as $4.99 a month for a 12-month subscription. You also have the option of a 3-month subscription for $35.99. Our customers tell us that they save an average of $2,000 a year on their food costs! But if you're not sure whether eMeals is a good fit, you can try it FREE for 14 days to see for yourself!

Do you have breakfast and lunch plans?

Yes. We offer Lunch and Breakfast Plans that provide new ideas each week. For a few of our dedicated food styles, we have tailored lunch and breakfast plans to match the dinner style. You can choose to add a lunch or breakfast plan when signing up or directly from the member area of the website.