Slow Cooker Meal Plan
For those times when hands-off cooking is a must.
Includes Clean Eating Meals
Includes Paleo Meals
Quick-Prep Meals
Sample Meals on the Slow Cooker Meal Plan
Menus offer a mix of recipes ranging from quick-prep to kid-friendly allowing you to choose based on your family's week and budget.
Slow Cooker
Slow Cooker Chicken-Tamale Chili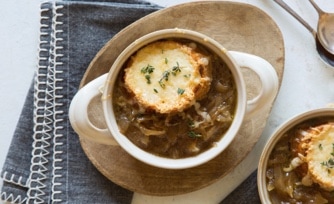 Slow Cooker
French Onion Soup with Gruyère Croutons
Slow Cooker
Pork Roast with Grapefruit Salsa and Arugula and Carrot Salad
Learn more about how it works
Save Two Hours Every Week
More than a million customers have trusted us to help solve dinner.


This is my first Emeals to Walmart pickup. It was so easy. I will only menu plan this way out from now on.

Great recipes and I love that you can add the necessary ingredients directly to your online shopping list!!
powered by

You Might Also Like
You can always mix and match recipes from all our plans.
Frequently Asked Questions
Can I switch my meal plan?

Absolutely. Our goal is to offer users ample flexibility to meet specific lifestyle and family needs. We offer unlimited switching for our users both from the website or the app (iOS and Android).

Do you have an app to access my plan on the go?

Yes. We have a free, dedicated iOS and Android app that's available to users with an active subscription. After signing-up on our website, you can download the app and login using your username and password.

What if I don't want to use all seven dinner menus on my plan?

We know there are times when you won't use all seven dinner menus, so our weekly goal is to provide plenty of variety and inspiration for you to pick and choose the meals that most appeal to you and your family. In the app, you can easily select the meals that you want for the week, and the app will automatically create the shopping list based on your selection.

How much does eMeals cost?

A subscription at eMeals is as low as $5 a month for a 12-month subscription. You also have the option of a 3-month subscription for $10 a month. Not sure if it's worth the money? Then try it FREE for 14 days to see for yourself!

Do you have lunch and breakfast plans?

Yes. We offer a healthy lunch and breakfast plan as well as a dessert and occasions plan. For a few of our dedicated food styles, we have tailored lunch and breakfast plans to match the dinner style. You can choose to add a lunch or breakfast plan when signing up or directly from the member area.